Tag Archives:
monarchy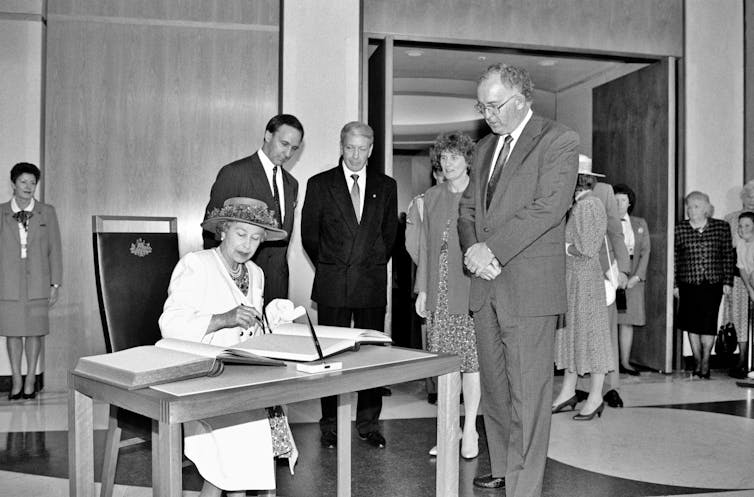 Frank Bongiorno, Australian National University
Not long after defeat in the 1999 referendum, Malcolm Turnbull, a leading republican who had chaired the Republic Advisory Committee (RAC) appointed by Paul Keating, was licking his wounds.
"We must not let the desperate desire not to be 'elitist' lead us into imagining that the voters always get it right," he reflected. "They don't. Sometimes nations vote for the wrong people or the wrong propositions … There is nothing disrespectful in questioning the judgement of 55% of the Australian population."
Like many republicans, Turnbull laid much blame at John Howard's feet. But cabinet papers released today by the National Archives of Australia suggest a very different story: the republic was doomed from the moment the Keating government rejected the idea of a directly elected president.
---
Further reading: Cabinet papers 1994-95: The Keating government begins to craft its legacy
---
The submission, considered by cabinet's Republic Committee on March 22, 1995 (and by cabinet on June 6, 1995) warned:
Public opinion polls … suggest that any mechanism for appointing a head of state short of direct election will be controversial.
The document, unusually couched in the first person with Keating as narrator, is haunted by the ghosts of 1975. The risk of direct election, it explained, was:
… that the head of state might be tempted to assume, or presume to take moral authority from, a popular national mandate … and exercise the powers of that office in a manner which could bring the office into competition with the government of the day.
Here, in a nutshell, was the problem republicans faced. They wanted to present Australia's constitutional arrangements as deficient enough to justify reform, yet they refused to countenance change that might lead to any but cosmetic changes. A bunch of politicians wanted to prevent an outbreak of politics.
Direct election of a president, we are told:
… would in time fundamentally change the character of Australian Government and could well move our parliamentary democracy towards an executive presidency, where power is no longer diffuse and representative and where substantial national power is vested unalterably in one person for a set period.
"This matter," the submission went on to explain, "needs to be handled sensitively so that public understanding increases as the debate continues".
In other words, it was the public's ignorance that led it to support direct election. If only citizens better understood their political system, they would realise that selection by a joint sitting of parliament, with a two-thirds majority required to endorse a prime ministerial nomination, would make it impossible for a partisan figure to become president.
The paradox was that election by politicians was supposedly needed to avoid a politicians' republic. Years passed, but no-one ever found a way to work through this conundrum of the republicans' making. In the meantime, Keating faced another problem: even if parliamentary selection was accepted, what should the powers of that president be?
The governor-general had many roles and powers, some of which the Constitution defined. Some were exercised by convention on ministerial advice, and some were in a third, murky and controversial category known as reserve powers. The submission dismissed complete codification of the reserve powers as politically impossible:
An acrimonious debate on this issue would have the potential to derail the whole republic initiative.
It then went on to consider other ways of dealing with the problem. Eventually, the full cabinet would opt in June 1995 for a formula to be included in the constitution asserting that the president would "exercise his or her functions in accordance with the constitutional conventions which related to the exercise of the powers and performance of the functions of the governor-general".
However, the conventions would not be regarded as "rules of law", nor would the provision prevent "further development of these conventions".
The attention that the reserve powers received underlines how powerfully 1975 preyed on the mind of Keating, who had been a young, recently appointed minister in the Whitlam government at the time of the dismissal. He pointed to the risk that:
… without codification, every half century or century the nation could suffer a wilful or misguided head of state who exercises political judgement against the interests of one of the parties or without due regard to historical conventions.
The priority was to avoid another Kerr. Indeed, he is even mentioned by name, as one whom few thought "benign to begin with – and he did not have to run the gauntlet of parliamentary approval, but he did suffer subsequent admonition by a large section of the country".
Future presidents, unlike Kerr, would be constrained through their manner of selection by a super-majority of the House of Representatives and Senate sitting as one. The president would need to have the confidence of both parties, and so was likely to be non-partisan and of high calibre. However, if they proved "misguided or aberrant", they could be removed via a two-thirds majority of a joint sitting convened by a simple majority vote of either chamber.
The psychology of this minimalist position is epitomised in how the submission dealt with the issue of what to call the republic.
It opted for keeping "Commonwealth of Australia" – not, it seems, because there was anything valuable or resonant in this title, but because it "would reflect the (minor) extent of the changes sought to the Australian system of government and would avoid the need for numerous consequential changes to the Constitution and other areas of official life". An example of this would be the national anthem's reference to "this Commonwealth".
Leaving aside the absurdity of the last point, to argue for a change while also telling people that little would change was a balancing act beyond the republicans' powers. At a time of populist revolt – the Hanson outbreak occurred in 1996 – it became even easier to cultivate hostility to "elites" out of touch with ordinary Australians.
I voted "yes" in 1999. I would vote "no" today if offered a reheated minimalist republic.
The arguments in the cabinet submission suggest a failure of imagination and, more seriously, of trust. They grossly exaggerate the fragility of Australian parliamentary government, which is sufficiently entrenched to avoid the spectre of a well-designed scheme for direct election leading to a US-style executive presidency.
The late historian John Hirst, the Australian Republican Movement's Victorian convener in the 1990s and an RAC member appointed by Keating, warned a Canberra ARM audience in 2011 that parliamentary selection would never win public support. The ARM therefore should support direct election.
Hirst also warned against a consultative two-step process that invited voters to consider the principle of a republic, followed by a further vote for a specific model.
The first of these votes would permit a potent "no" campaign around such tried and true themes as change is dangerous, republics are bad, we already have an Australian head of state, politicians cannot be trusted, and voters should not issue a blank cheque.
The recent same-sex marriage survey provides Hirst's warning with ample vindication. Opponents of a republic would be no more likely to campaign directly for the monarchy and against a republic than opponents of same-sex marriage campaigned explicitly against homosexuality. Red herrings would be the order of the day.

But in contrast to same-sex marriage, if the principle of a republic were to be defeated in a popular vote, like Sleeping Beauty it would have a restful century or so while it waited for a reviving kiss from a handsome prince.
Frank Bongiorno, Professor of History, ANU College of Arts and Social Sciences, Australian National University
This article was originally published on The Conversation. Read the original article.
---