Daily Archives:
May 21, 2021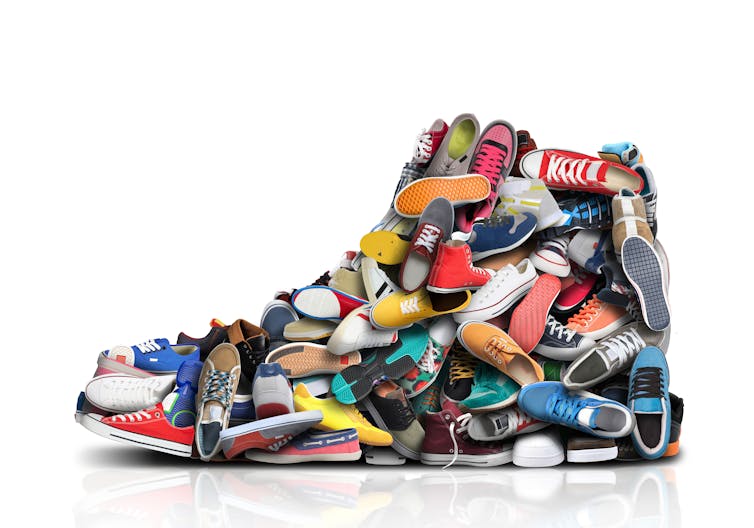 Naomi Braithwaite, Nottingham Trent UniversitySneakers (or trainers if you're British), once the symbol of athleticism, have transcended their primary function to become commercial and fashionable objects of desire. From sportswear and street style to catwalk fashion, sneakers have made their mark as cultural commodities.
---
You can listen to more articles from The Conversation, narrated by Noa, here.
---
The global sneaker market valued at approximately US$79 billion (£56 billion) in 2020 and is predicted to reach US$120 billion (£85 billion) by 2026. With such huge growth, it is unsurprising that they are considered big business.
Such are the strides in the sneaker industry that a new exhibition at London's Design Museum explores how the shoe became an undisputed cultural symbol of our times.
Comfort is king
The last decade has seen a huge shift in how sneakers are worn. Donning a pair is no longer frowned upon in the workplace or on more formal occasions. Even British etiquette experts Debrett's have given their seal of approval, deeming them socially acceptable for smart casual occasions.
The continued dominance of the athleisure trend has had a significant impact on the growing sales of sneakers – along with the pursuit of comfort. This only grew more during the pandemic as lockdowns made people further prioritise comfort, which resulted in a rise in sales of loungewear, athleisure and flat shoes, like sneakers.
As such, sneakers have moved from the niche to become coveted as fashionable objects. Footwear is now the biggest selling category in the online luxury market and sneakers have made a significant contribution to this growth.
High fashion brands from Gucci to Balenciaga are setting the pace in the luxury sneaker market. In 2017, Balenciaga's Triple S became the biggest seller in the luxury sneaker market and its popularity seems unstoppable.
To understand how the sneaker has emerged to become a footwear phenomenon, it is important to trace its legacy from function to cultural icon.
From tennis shoes to track
The earliest sports shoes were created by The Liverpool Rubber Company, founded by John Boyd Dunlop, in the 1830s. Dunlop was an innovator who discovered how to bond canvas uppers to rubber soles. These were known as sandshoes and worn by Victorians on their beach excursions.
Historian Thomas Turner defines the latter decades of the 19th century as a time when industrial progress and social change were twinned with a growing enthusiasm for sporting pursuits, in particular lawn tennis. This resulted in the need for a more specialised type of footwear, which Dunlop's rubber sole could fulfil. Dunlop launched their now iconic, Green Flash model in 1929, which was worn by tennis legend Fred Perry at Wimbledon.
Other significant sports shoes of the 20th century included the Converse All Star, designed for basketball. However, it is Adidas and Nike that have both shaped the sneaker's evolution from sport to style.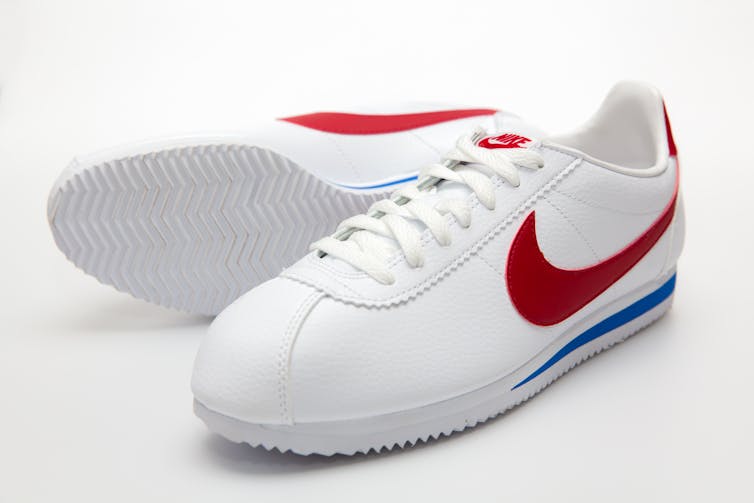 Founded by Adi Dassler in Germany in 1924 as "Gebrüder Dassler Schuhfabrik", the company later rebranded as Adidas in 1949. The brand created the first track shoe with a complete leather sole and hand-forged spikes, which was worn by Jessie Owens at the 1936 Berlin Olympics.
Nike was created by Bill Bowerman and Phil Knight in 1964 as Blue Ribbon Sports and became Nike Inc. in 1971. This coincided with the running craze that hit America. Nike's first commercial design was the Cortez, cushioned for running. The Cortez was worn by Tom Hanks in Forrest Gump, securing Nike's cultural status.
The commercialisation of cool
Research by the sociologist Yuniya Kawamura on sneakers defines three waves of the phenomenon. The first wave in the 1970s was defined by an underground sneaker culture and the emergence of hip-hop. Adidas' Samba design, as a key example, became a key part of Terrace Fashion within football fan subculture. In 1986, Run-DMC released the song My Adidas, leading to a sponsorship deal with the brand. This forged the sneaker's deep-rooted place in popular culture.
The second wave of the phenomenon began in 1984 with the launch of Nike Air Jordans. This gave rise to the commodification of sneakers and their desirability as status items, fuelled through celebrity endorsements. For Kawamura the third wave is marked by the digital age and the resulting growth in sneaker marketing and resell culture.
The global sneaker resale market was valued at US$6 billion (£4.6 billion) in 2019 and is forecast to be worth US$30 billion (£21 billion) by 2030.
The growing presence of "sneakerheads" who collect and trade sneakers have ensured that they maintain cult status. Nike and Adidas routinely release limited editions shoes associated with a celebrity, hip-hop star or athlete.
It is not unusual for people to go to extreme lengths to get their hands on these rare models, queuing through the night. Examples include Nike Air Yeezy 2 "Red October", and Air Jordan x 1 Off-White "Chicago".
These shoes have a retail value of US$190 to US$240 (£135 to £170) and are reselling for between US$1,695 and US$6,118 (£1,202 and £4,339). The lucrative sneaker resale market has created a new cult of sneaker enthusiasts who through entrepreneurial spirit are generating significant hype along with personal income.
From sport to fashion, sneakers dominate the consumer market. Yet, despite their adoption by the mainstream, sneakers retain their coolness as cultural icons.

Naomi Braithwaite, Senior Lecturer in Fashion Marketing and Branding, Nottingham Trent University
This article is republished from The Conversation under a Creative Commons license. Read the original article.
---
Bianka Vidonja Balanzategui, James Cook University and Claire Brennan, James Cook UniversityIn this series, we look at under-acknowledged women through the ages.
The women of the tropical north Queensland frontier were a varied lot
and included Melanesian indentured labourers brought to work on sugar cane plantations. Annie Etinside was one of them.
She was brought to Halifax, a small, sleepy town bordering the banks of the Herbert River that was once a thriving port and tramway terminus for the Colonial Sugar Refining Company's Victoria sugar plantation and mill.
Evidence today of the indentured labourers who once toiled on the plantation is found in small signposts such as one at "The Gardens", formerly a small Melanesian village on the outskirts of Halifax. Here lived a few families who were not later repatriated to their islands.
Far fewer women than men were recruited as indentured labourers. In 1906, when forced repatriation of these labourers began, only 14 Melanesian women and 500 men remained on the Herbert. Annie, one of those 14, did not live in The Gardens community. Her life took a very different course.
Available records reveal a woman of colour who defied all odds to participate in a predominantly white community. Yet Annie remains an enigma.
---


Read more:
Hidden women of history: Wauba Debar, an Indigenous swimmer from Tasmania who saved her captors


---
Recruitment
The "frontier" is generally thought of as a masculine space. In part this is because most frontier history has been written by European men, who tended not to notice women beyond their domestic arrangements, if at all. Fleshing out the lives of pioneering frontier women is difficult enough if they are white, let alone for women of colour.
The first Melanesian men were brought to the Herbert River district around 1872; women came about ten years later. Annie appears to have been among them. While some islanders volunteered, others were secured against their own will by deceit and even kidnapping.
They were paid, and at the end of the three-year indenture period could either return to their islands, re-indenture, or work freely in the sugar industry on a set wage. Following the existing record trail leaves many questions unanswered about when Annie arrived and where from.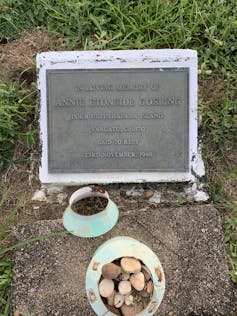 In the Halifax cemetery, her simple headstone tells us she came from Ureparapara (the third largest island in the Banks group of northern Vanuatu). Yet her death certificate records her as born on "Lambue South Sea Island". Her marriage certificate records her birth as "Burra Burra South Sea Island". Neither of these locations can be identified, but the latter may be a corruption of Buka Buka.
A register was kept listing the names of recruited labourers and other details. The only Etinside on this register is a man brought over on November 5, 1888 from Ureparapara. We don't know if this was Annie, mistakenly recorded as a male.
Details of Annie's arrival are further muddied by the information provided on her gravestone, marriage and death certificates. According to these, she was born around 1870, so would have arrived in Australia in 1881 as an 11-year-old.
---


Read more:
Hidden women of history: Isabel Flick, the tenacious campaigner who fought segregation in Australia


---
Marriage
Indentured women were employed both in fields and houses by small farmers, and on plantations. Annie's obituary, published in the Herbert River Express, says she was first engaged as housemaid to Norwegian sugar cane farmer Johan (John) Ingebright Alm and his wife Antonia, then to an English farmer, Francis Herron and his wife Lucinda.
By 1884, she was housemaid to George Gosling who had migrated from Britain in 1881. George was an overseer of indentured labour gangs, then farmed on leased land and in his own right, turning a piece of land called "Poverty Flat" by locals into a successful farm, Rosedale.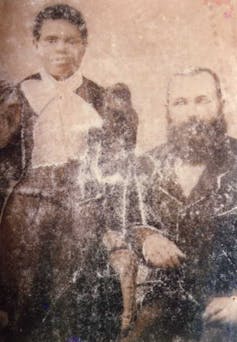 Annie married Gosling in 1898 in a civil ceremony. By this time, she had borne him two children. The children's birth records are the first bearing the name Etenside (misspelt). At this point, Annie may have begun to feel unsafe. The Aboriginal Protection and Restrictions of the Sale of Opium Act of 1897 had just been passed.
Without an official record to prove she had arrived as an indentured labourer, officials could have identified Annie as Aboriginal. This would have meant restriction of her movements and associations; her children, as mixed race and born out of wedlock, could have been taken from her.
The indentured labour scheme was never meant to permit Melanesian people to settle permanently in Australia. In 1901 the White Australia policy legislated to stop the scheme. From the end of 1906, all Melanesian indentured labourers were to be forcibly deported back to their islands, except for those with exemption tickets.
Marriage offered Annie protection. Rather than social disapproval, it seems to have met with tolerance, even if expressed in a patronising way. One Cairns newspaper described her with tongue in cheek as Gosling's "little black duck".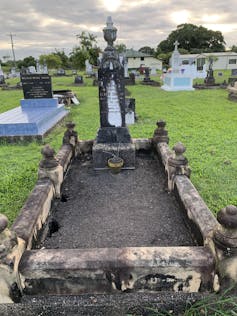 Annie and Gosling had three more children although tragedy struck on January 17, 1905, when Gosling died of malaria at the age of 45. Annie was left with five young children, the youngest only eight days old. On Gosling's death, Annie was recognised as his lawful widow, inheriting all his estate. The success of his farm can be partly attributed to her. On the Herbert, small farmers depended on wives and children for all field labour, apart from cane harvesting.
Annie had another child in 1907, who she named Robert Gosling. She went on to marry William John Davey on February 17, 1909. But one month after their marriage, she registered the death of little Robert. Davey died on August 30, in the same year. After his death she reverted to using the name Gosling.
Remarkable feats
Despite her "alien" status, Annie integrated herself successfully into the largely white social fabric of Halifax, becoming a respected member of the community at a time of institutionalised racism. She participated in civic life, was registered on the electoral roll and ran a farm.
Her children attended the Halifax State School, her sons farmed and held jobs at the sugar mills (unusual for children of indentured labourers) and her children married Anglo-Australians, Europeans and Asians.
Annie's were remarkable feats, given the prevailing racial attitudes and prohibitions regarding land ownership, education and constitutional rights. They indicate her determination to be recognised as an accountable, independent and hard-working member of society, regardless of her skin colour.
When Annie died on November 23, 1948 at the recorded age of 78, she was described in the Herbert River Express as a "grand old pioneer".

Bianka Vidonja Balanzategui, Adjunct Lecturer, James Cook University and Claire Brennan, Lecturer in History, James Cook University
This article is republished from The Conversation under a Creative Commons license. Read the original article.
---