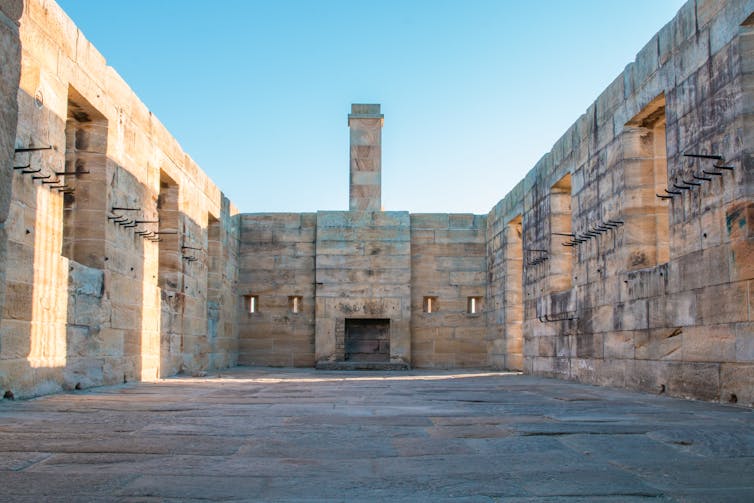 Kristyn Harman, University of Tasmania
When the Royal Commission into Aboriginal Deaths in Custody's report was tabled in 1991, it was not the first official inquiry into this tragic phenomenon. The disproportionately high rate of mortality among Aboriginal convicts in colonial New South Wales had triggered an earlier investigation in 1850.
The problem is, of course, still with us. This year a Guardian investigation found 147 Indigenous people have died in custody over the past ten years, and 407 since the end of the Royal Commission.
---


Read more:
Deaths in custody: 25 years after the royal commission, we've gone backwards


---
In my research into the transportation of Aboriginal convicts in the 19th century, I uncovered a government circular, a formal letter, written in 1851. It set out detailed instructions about watching and reporting on the health of Aboriginal prisoners. And it recommended that if an Aboriginal prisoner's life was in danger, he might be released from gaol.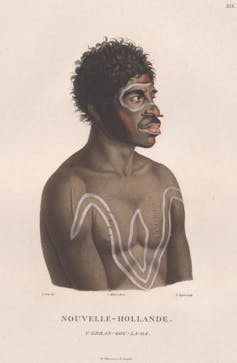 When Aboriginal convict Jemmy died in custody in 1850 soon after being transported to Cockatoo Island in Sydney, the Native Police Office wrote to let the colonial secretary Edwards Deas Thomson know. Thomson reacted by asking for a report of the number of Aboriginal convicts who had died on the island over the past five years.
It revealed that of the 19 Aboriginal men transported there between 1845 and 1850, 12 (63%) had died there or in Sydney's general hospital.
Jemmy, along with at least 60 other Aboriginal men from NSW (which at the time included Queensland and Victoria), was transported following his involvement in Australia's 19th century frontier wars. Some of these Aboriginal convicts were sent to Norfolk Island and Van Diemen's Land.
Others languished on Goat Island, Sydney, and, later, Cockatoo Island. The most high profile Aboriginal captive was Musquito who was banished from NSW to Norfolk Island in 1805 and later hanged in Hobart in 1825.
---


Read more:
Soldiers, thieves, Māori warriors: the NZ convicts sent to Australia


---
Why the deaths?
Most Aboriginal convicts simply did not survive for very long in captivity. In their first year of incarceration, Aboriginal convicts died at ten times the rate of male convicts shipped to Van Diemen's Land from Britain. Speculation about this at the time mostly hinged around the idea that they died from pining for country.
Other contributing causes included untreated injuries following violent arrests and crowded, unsanitary living conditions, which led to chest infections. Aboriginal poor health in custody was exacerbated by colonial diets and hard labour.
The disturbing trend of high death rates amongst Aboriginal prisoners is evident in archival records from the early decades of the 19th century. Yet until the 1840s Aboriginal convicts were spread out across a range of different probation and penal stations.
When Thomson heard how many Aboriginal convicts were dying in custody at Cokatoo Island, he set up a board of enquiry to consider alternatives to confining them there. This board comprised the medical adviser to the government Dr Patrick Hill, the surgeon at Cockatoo Island Dr O'Brien, and the island's visiting justice, H. H. S. Browne.
The response
The most significant outcome of the inquiry was a remarkable document that went beyond the 339 recommendations of the Royal Commission almost 150 years later. An official circular instructed surgeons visiting colonial gaols to report to justices any cases involving Aboriginal prisoners whose lives could be endangered by longer confinement.
The upshot of this was that, providing it was not considered contrary to the public interest, the suffering prisoner might be released from custody. With the restoration of his freedom, it was hoped he would return to full health.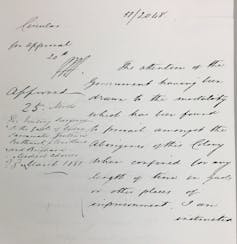 While this initiative arose out of the convict system, the instructions were circulated more widely and applied to Aboriginal prisoners generally.
The gaol at Bathurst, a town north west of Sydney, was among the institutions to which the circular was sent in March 1851. In the early 1850s, Godfrey Charles Mundy visited Bathurst Gaol as part of a tour of NSW with his cousin, Governor Charles FitzRoy.
Mundy wrote about a man known as "Fish-hook", who had been locked up for cattle stealing and showed signs of reduced mental function. Returning a month later, Mundy noted a marked deterioration in Fish-hook's mental and physical wellbeing.
FitzRoy ordered Fish-hook's immediate release. When Mundy saw Fish-hook a third time, after the Aboriginal man had become a colonial servant, he wrote how the former prisoner's mental health had been perfectly restored.
Despite the transformative outcome for Fish-hook, it seems unlikely many Aboriginal prisoners were freed. To the contrary, some were considered too sick to be released, as it would almost certainly lead to their death.
The 1851 Circular and the 1991 Royal Commission into Aboriginal Deaths in Custody shared a common concern, to reduce the mortality rate of Aboriginal prisoners. The 19th century solution was to initiate, where possible, their early release. By the end of the 20th century, the Royal Commission's focus was on strategies to lower Aboriginal incarceration rates. However, 27 years later, many of its recommendations are yet to be implemented.

Kristyn Harman, Senior Lecturer in History; Graduate Research Coordinator, School of Humanities; Course Coordinator, Diploma of History, University of Tasmania
This article is republished from The Conversation under a Creative Commons license. Read the original article.