Daily Archives:
January 10, 2018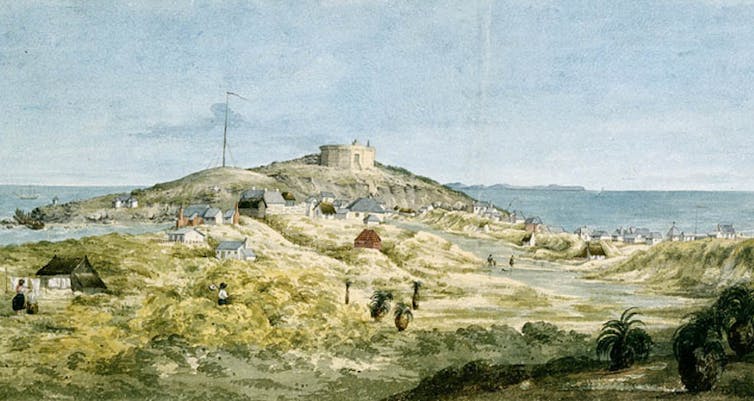 Barry Godfrey, University of Liverpool and Lucy Williams, University of Liverpool
The Hougoumont, the last ship to take convicts from the UK to Australia, docked in Fremantle, Western Australia, on January 9, 1868 – 150 years ago. It brought an end to a process which deposited about 168,000 convicted prisoners in Australia after it began in 1788.
Convicts had ceased to be sent to New South Wales and Van Diemen's Land (Tasmania) decades earlier, but Western Australia still wanted convict labour to help with building projects. By the time the Hougoumont landed its shipment of 281 convicts, the Swan River penal colony in Western Australia had been reliant on convict labour for 18 years, and received almost 10,000 male prisoners from Britain.
//platform.twitter.com/widgets.js
The convict system may have ended with the arrival of the final convicts on the Hougoumont and the disbandment of Australia's penal settlements, but the people who were its legacy lived on. Some prisoners achieved a kind of celebrity status. Mary Reibey, who was transported to Sydney, became a successful businesswoman and charitable benefactor, and is commemorated on the Australian $20 note.
In Western Australia some of Britain's "bad" men made also "good". Alfred Chopin, transported for receiving stolen goods, became a famed and sought-after photographer. Embezzler John Rowland Jones became a reporter for the Western Australian government, and later editor of the West Australian newspaper. Their stories are extraordinary, but they have been used to present a generally favourable narrative which contrasts their heroism against the long-established stain that supposedly blighted those generations of Australians descended from convicts.
It is easy to find thousands of ex-convicts who left crime behind and forged new, ordinary, lives in Australia. Yet, while some ex-convicts became pillars of their communities, got married, and became much-loved and valued friends and neighbours, others struggled.
Our ongoing research shows that the impact of transportation could last a lifetime for those in Western Australia. Many convicts were left struggling with unemployment, personal relationships, and alcoholism, and drifted through both life and the colony. Many re-offended for decades after they were freed in Australia, but only committed low-level nuisance and public order offences – mainly drunkenness and vagrancy – rather than the more serious crimes for which they were initially transported.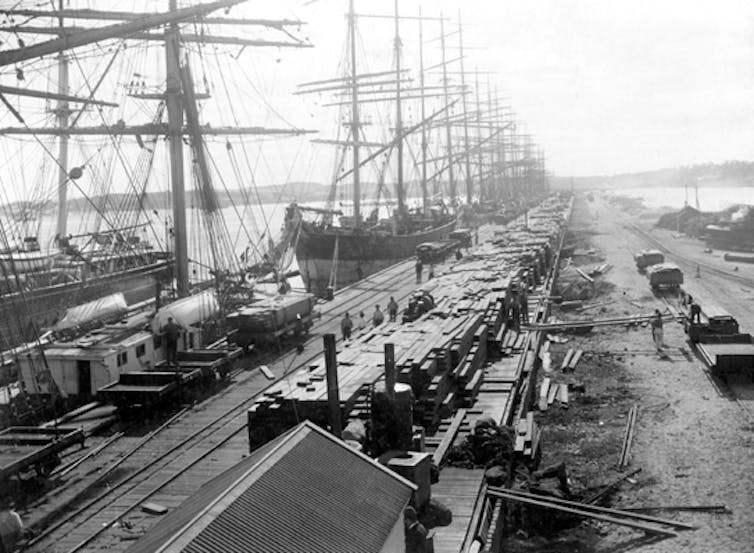 The Western Australian records we've been using for our recent research and digitised for the Digital Panopticon project reveal the story of Samuel Speed, the last living Australian convict. He was transported to Western Australia in 1866 and died in 1938, just short of his 100th birthday.
Speed's story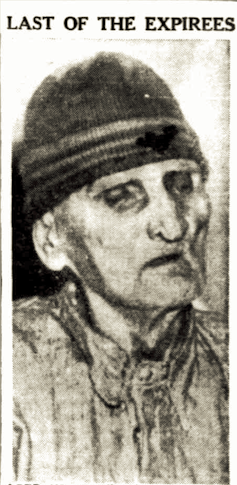 Speed was born in Birmingham, England in 1841. He had one brother and one sister, but little else about his family or early life is known. He was in his early twenties when he was tried in Oxfordshire in 1863 for setting fire to a haystack. Homeless and begging for food, he had committed arson in order to get arrested and spend some time in a warm cell. He was sentenced to seven years of convict transportation to Australia.
Speed was conditionally released in 1869 and was allowed to live outside of the prison walls and undertake employment, provided he did not commit any further offences. He found work as a general servant in Western Australia and was finally granted his certificate of freedom two years later. He went on to help build bridges across the vast Swan River, and spent the rest of his working life at various companies around the state. He was never re-convicted of any offence and went on to live a perfectly ordinary and law-abiding life, only coming to the attention of the papers a few months before his death.
By that time, old and frail, and dependent on the care of attendants, Speed's memories of transportation were faded. Among the few recollections of his former life he remembered that:
Among those unfortunates transported … were men of every walk of life; doctors, lawyers, shirt-soiled gentlemen, and social outcasts tipped together in the hothouse of humanity that was the Swan River Colony.
A kind of rehabilitation
Speed lived long enough to see his former penal settlement become part of the federated commonwealth of Australia. He witnessed the death of an old archaic system, and the birth of a new and confident Australian nation.
To the early 20th-century press, his life was a gratifying confirmation that they system had worked. Western Australia had taken corrupt British convicts and turned them into productive members of society. The report of his death in Perth's Sunday Times confidently asserted that Speed's conduct was all that a reputable citizen should aspire to.
He was not by any means the only ex-convict who stayed out of trouble, however, as our research is showing, his behaviour was far better than most of his fellow ex-convicts. It was also better than the rumoured conduct of free settlers who flooded into Western Australia after gold was discovered in the 1880s and 1890s.
Our preliminary research is showing that about 80% of men who arrived on the last convict ship (discounting 67 Irish political prisoners) committed either a regulatory infraction such as absconding, possession of contraband or violent conduct, or a criminal offence during their time under sentence. Given the number of convicts who re-roffended both during and after their sentence, it's better to think of the transportation system as encouraging enough reform for society to progress. The convicts as a cohort may not all have rehabilitated, but few committed serious offences after they were transported.

As for Speed, he died in Perth's Old Men's Home in 1938. Seventy years after the last British convict ship arrived in Australia, the convict period had finally ended.
Barry Godfrey, Professor of Social Justice, University of Liverpool and Lucy Williams, Postdoctoral Research Associate, University of Liverpool, England, U.K., University of Liverpool
This article was originally published on The Conversation. Read the original article.
---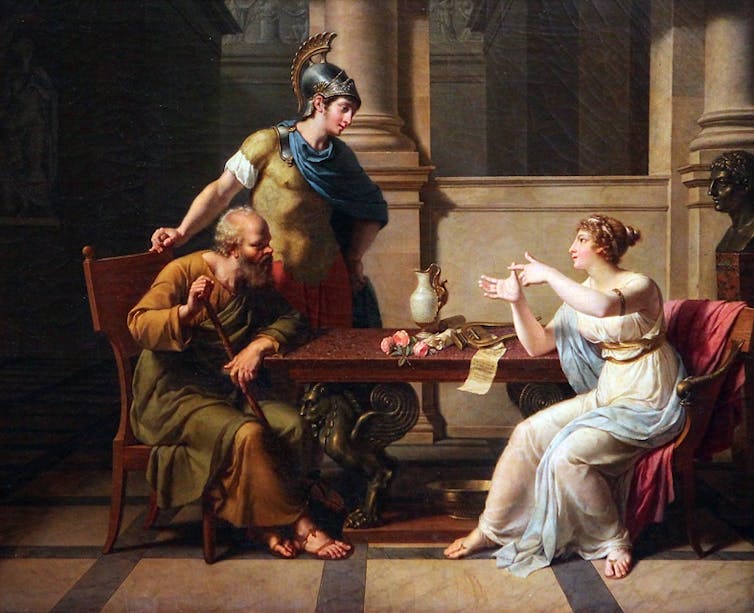 Marguerite Johnson, University of Newcastle
In our sexual histories series, authors explore changing sexual mores from antiquity to today.
When the Athenian politician Pericles delivered his famous Funeral Oration at the end of the first year of the Peloponnesian War (431-404 BC), commemorating those who had fallen during the course of the year, a rumour emerged that his companion, Aspasia was the real author. The claim was made by no other than Socrates, whose testimony was recorded by Plato. This assertion may not be that difficult to believe in view of Aspasia's role in Athenian society.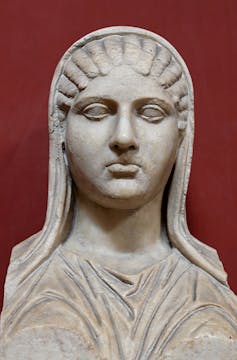 Aspasia (c. 460-400 BC) was a hetaira, an elite companion or courtesan trained in the arts of pleasing wealthy, upper-class men. This training included acquiring musical skills, developing the art of conversation and, of course, being able to sexually satisfy clients.
While Aspasia may not have been a typical hetaira, but rather an exceptionally successful and fortunate one, there is ancient evidence to attest that this class of women was educated in literary arts, philosophy, and rhetoric. In this sense, they could converse with men in a way that traditional wives could not, owing to the limited access to formal education afforded Athenian girls and women of citizen families.
Yet Aspasia may not have born into the trade. From a wealthy family from Miletus (in modern-day Turkey), she seems to have acquired her extensive education through virtue of their prominence and her father's decision to allow her tuition. The circumstances behind her arrival in Athens are debated, although as a resident alien, Aspasia had little options once there. She could not legally marry an Athenian citizen, nor could she seek legitimate work.
Other hetairai, like Neaira, were put into the trade as children and trained for a life of satisfying wealthy clients. There are comparatively extensive records for Neaira, who lived in Athens in the 4th century BC, owing to her involvement in a court case on charges of illegally marrying and passing off her daughter as a legitimate Athenian. Through the course of the proceedings, Neaira's life was detailed, and it tells a very different tale to the comparatively glamorous accounts of Aspasia's time with Pericles.
As a little girl, Neaira was sold to a woman by the name of Nicarete and trained as a sex worker in her brothel in Corinth (in southern Greece). Accounts of her life as a child reveal that she was working for Nicarete, along with six other girls purchased at the same time, before she had come of age (before puberty). As she matured, Neaira was sold, passed around, and finally found herself in court on charges of illegally marrying.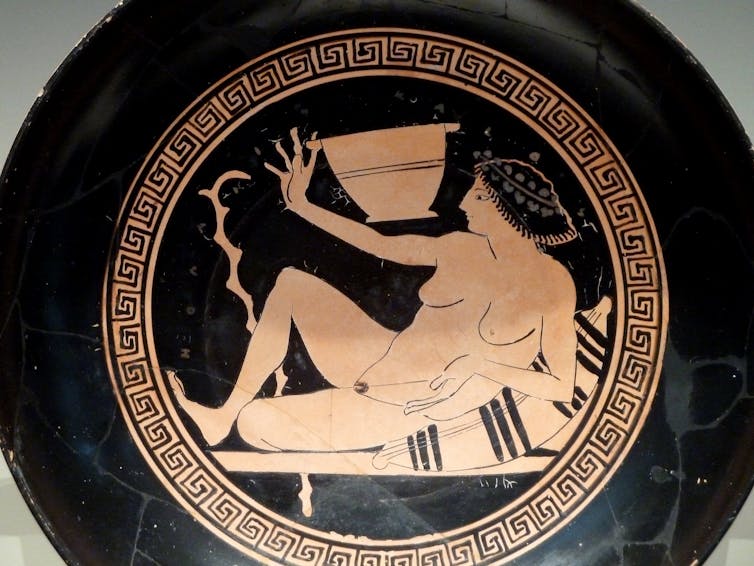 Modifying girls to please men's tastes
The lives of other girls and women reveal the hardships they faced. In addition to hetairai, there were those who worked their whole lives (until they were of no further use) in brothels. The price of women varied according to their age and condition and the quality (or lack thereof) of the business. As the hetairai were trained in the skills required to please men, women in brothels were sometimes modified to suit certain male tastes.
In an extract preserved from a comic play from the 4th or 3rd century BC, the lengths to which a pimp would go to alter the appearance and behaviour of new girls is recorded:
One girl happens to be small? Cork is stitched to the sole of her
delicate shoes. One girl happens to be tall? She wears a flat slipper,
and goes out drooping her head on her shoulders, thus
taking away some of her height. One girl doesn't have hips?
She puts on a girdle with padded hips under her clothes so that
men, on seeing her beautiful derriere, call out to her.
Comedies, which regularly dealt with what society deemed as the less salubrious aspects of life, have provided historians of sex with significant evidence of brothel life. The passage continues:
One girl has red eyebrows? They paint them with lamp soot.
One girl happens to be black? She anoints herself with white lead.
One girl is too white-skinned? She smears on rouge.
One part of her body is beautiful? She shows it naked.
Her teeth are pretty? She must, of necessity, smile so that
the men present may see what an elegant mouth she has.
But if she does not enjoy smiling, she must spend the day
indoors and, like something positioned by a butcher
when selling goats' heads,
she must hold upright between her teeth a thin stick of myrtle;
that way, in time she will show off her teeth whether she likes to or not.
In another comedy from the same era, the playwright describes the women on display in brothels. They are depicted as "sun-bathing" with their "breasts openly displayed" and "naked for action and lined up in rows." As with the modification of the women described above, this passage also discusses the variety of women available:
From them you may select one for your pleasure:
thin, fat, round, tall, short,
youthful, antique, middle-aged, or overly ripe …
The passage also includes a statement that explains the popularity of paying for sex in ancient Greece; namely the safety-net it afforded men who could not even look at freeborn women for fear of reprisals.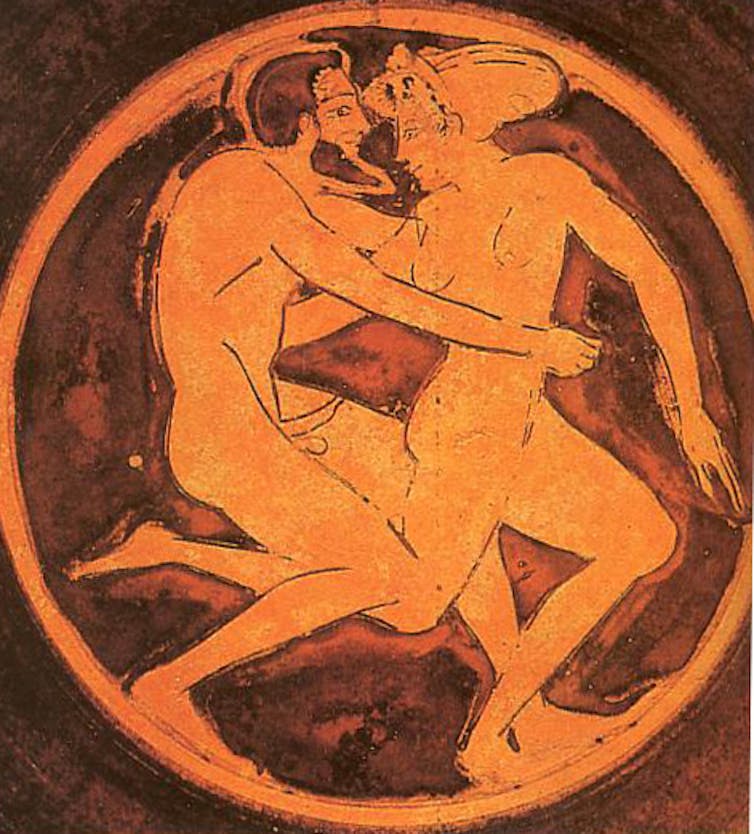 Did temple prostitutes exist?
As a woman aged, the chances of being able to access a means living through sex work became decidedly more difficult. Turning to a comic play once more, there is a description of an aged hetaira called Lais and the difficulties and humiliations facing her, which is evoked by the lines: "it is easier to get an audience with her than it is to spit".
Lais was an actual person who lived around the same time as Aspasia, and was reputed to have been a stunningly beautiful hetaira. Once courted by elite men, and described as having a haughty disposition, the aged Lais is depicted in this comedic passage as roaming the streets, taking on any client she could get, and having become "so tame … that she takes the money out of your hand."
The existence of so-called "temple prostitution" in Greek, Italian and Near Eastern antiquity has been recorded by several ancient authors, including Strabo in his Geography, written in the first century BC, which details "temple slaves" in the precincts of Aphrodite at Eryx (Sicily) and Corinth. Some sources, including Strabo, imply that the women were dedicated as votive offerings to the goddess, and that they serviced clients as a form of "sacred sex."
Nevertheless, some scholars now question the practice, offering several alternative explanations, including the possibility of brothels having been associated with such temples but not strictly related to them, and the confusion over accounts of women donating to temples of those goddesses under whose divine ordinance they practised their work.
In addition to hetairai, lower-grade sex workers who populated brothels from the slave and resident alien classes and possibly, temple slaves, there were also young men who serviced clients. Like their female equivalents, young men worked in the ergasterion (workshop) and the porneion (brothel) at the bottom end of the market, which were were dismal environments for the porne (harlot) and pornos (rent-boy) alike.
The word hetairos (male companion) is also attested in some sources but rarely in its reference to sexual activity. As with females, youthful men were the most desired, with a preference for those between the ages of 12 to 17. These young men also worked alongside the women often referred to as "flute girls" at the male gatherings called symposia. At these social events, young sex workers would entertain the guests, serve them food and wine, and if required, service them.

Outliving Pericles by almost 30 years, Aspasia was said to have become the companion of another politician, Lysicles. She was a survivor and experienced an exceptionally long life as a hetaira. As such, she was a rarity.
Marguerite Johnson, Professor of Classics, University of Newcastle
This article was originally published on The Conversation. Read the original article.
---